We Make the Difference
AI are committed to constantly look for the expansion of our current facilities to sharpen our competitive edge in the global market. We have made significant investments year-on-year on latest state-of-the-art machinery and technology to encompass our manufacturing activities keeping abreast of the needs of our customers. Our facilities will be always upgraded in line with the advanced modern technology.

Our greatest capability is we are strong in designing jigs and fixtures for our process control. As our standard practice, we implement and use customized jigs and fixtures to hold, locate and guide the products in all our manufacturing processes. This is the unique element that gained our recognition and for good reason. This is also our prime concern to ensure maximum quantity of production, adhering to the specified or better quality standards for customers.

To further strengthen our capabilities, we are committed to continually train our people to learn and acquire new skills and knowledge to maintain our technological leadership edge. We also regularly upgrade our people to keep pace with the new changes in technology. This enables us to maintain a productive and dedicated workforce to produce best-in-class products and services to our customers.

With our capabilities and commitments, we believe that we can make the difference to offer a total manufacturing solution in the supply of one-stop products for customers.
Our comprehensive range of capabilities includes the following:
Total Project Management
Design and Development
EDM and Wire-cut Machines
CNC Machining Centers
Drilling, Milling and Grinding Machines
Laser Cutting Machines
Press Machines
Press Brake Machines
Welding Machines
Laser Welding Machine
Powder-Coating Lines
Inspection Facilities
Other Secondary Facilities
Total Project Management
We have an integrated team of project engineers to oversee and monitor the progress of project on new products before launching to production. The engineers will plan, schedule, coordinate and work closely with all departments, subsidiary companies and customers to ensure the deadline and requirements of project are successfully met. The team will ensure all necessary process control and criteria are properly established, channeled and communicated to the respective departments locally and globally. The team will need to ensure all technical or outstanding issues are resolved before launching to production or handing over to customers.

With our combined experience and skills, we strongly believe that our project team will produce excellent co-ordination and follow up in making the new products happen.

Design and Development
In Singapore, Malaysia and China, we have a large pool of experienced designers and engineers to provide customized innovative solutions in tool and die and plastic mould design and development. With the aid of advanced computer-aided design (CAD) software, such as Unigraphics, Pro/E, CATIA and AutoCAD, we are competent to perform tool or mould design, generate 3D model, virtually test and simulate the feasibility of design or products before actual fabrication. All these capabilities will aim to shorten the development lead-time, reduce the design error and bring to the accuracy of design in line with the expectation of customers. In addition, we have established a small design group in India to expertise and concentrate on the design and development activities.

With our strong network of design and development, we can produce and deliver our high standard of designs within hours without delaying your launching of new products.

EDM and Wire-cut Machines
Across our global network, we are well equipped with more than 20 units of electrical discharge machines (EDM), inclusive of wire-cut machines, to enhance our capability in the fabrication of tool or mould. All these machines are computer numerical control (CNC) operated and computer-aided manufacturing (CAM) controlled that able to produce consistency and accuracy of jobs running over night and weekends without operator intervention. It serves as vital fundamental of support in providing excellent quality products at the shorter lead-time to customers.

We also employ a group of qualified operators who can program, set-up, operate and perform the job competently.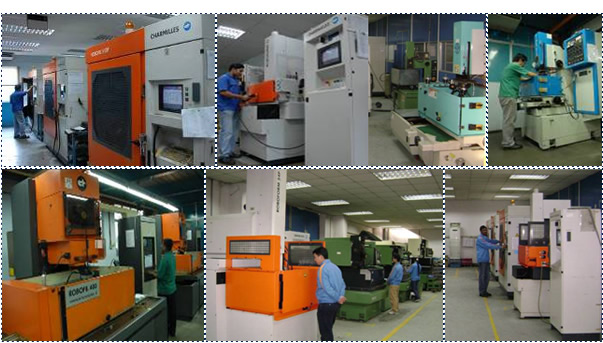 CNC Machining Centers
In Singapore and all subsidiary companies, we own a series of horizontal and vertical computer numerical control (CNC) machining centers that running at high speed to facilitate our tool or mould fabrication as well as for production. All machining centers are located separately and evenly for fabrication and production without any interference of interests. With our high removal rates, fast feed rates, greater accuracy and stability, our machining centers provide demonstrably higher quality, shorter time-to-market and the flexibility to meet changing production volumes, shorter part life cycles and reduced machining costs. For production control, we are using customized jigs and fixtures during process where will significantly reduce the setup times and human-dependent mistakes.

In addition, all our operators are trained to be proficient in programming, set-up and operation of machines.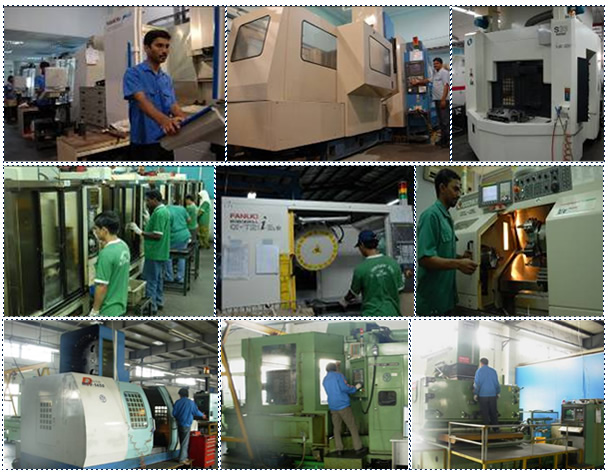 Drilling, Milling and Grinding Machines
To support our fabrication and production activities, we are fully integrated with various types of drilling, milling and grinding machines, such as horizontal and vertical milling, surface, shape and central grinding, in Singapore and all subsidiary companies. For production control, we are practiced using customized jigs and fixtures to locate and control the products during process. It makes operators easy to perform the jobs with the reduction of mistakes and lead-time. Therefore, we are capable to produce the required superior finishing and exact specifications in the customer or internal drawings.

All these machines are operated by our well-trained machinists or operators who are skillful and experienced to deliver the machining jobs on time.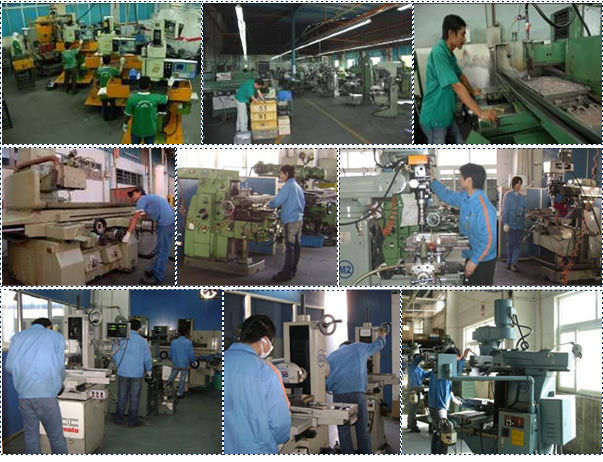 Laser Cutting Machines
In Singapore, Malaysia and China, we equip with the advanced laser cutting machines, with maximum laser power of 4400 W, for prototyping and production. The laser cutting machines are able to perform the cutting and engraving on various types of materials at the maximum thickness of 20 mm (0.8 inch), such as steel, stainless steel, aluminium, copper, brass, etc. The machines are fully integrated with computer aided design (CAD) and computer-aided manufacturing (CAM) software which makes the operation simple, safe, fast, efficient and reliable in producing first class cutting products to customers.

All machine operators are gone through professional training and proficient in the operation of software and hardware to produce the required jobs.

Press Machines
We own more than 140 units of stamping press machines ranging from 25 to 600 tons-capacity across our global network. All these stamping machines are suitable for various types and sizes of progressive or manual tool up to a maximum length of 3.5 meters (11.5 ft). The machines are adequately supported with other essential equipment, such as feeders, straighteners, air cushions, sensors, shearing machines and belt conveyor system, to enhance the overall productivity of production. As a result, we are capable to respond the needs of customers quickly and provide just-in time (JIT) delivery successfully.

In addition, our machine operators are trained and instilled right working attitude toward zero defect management. Their performances are constantly monitored and reviewed to ensure the objectives of quality and quantity are met as per target set.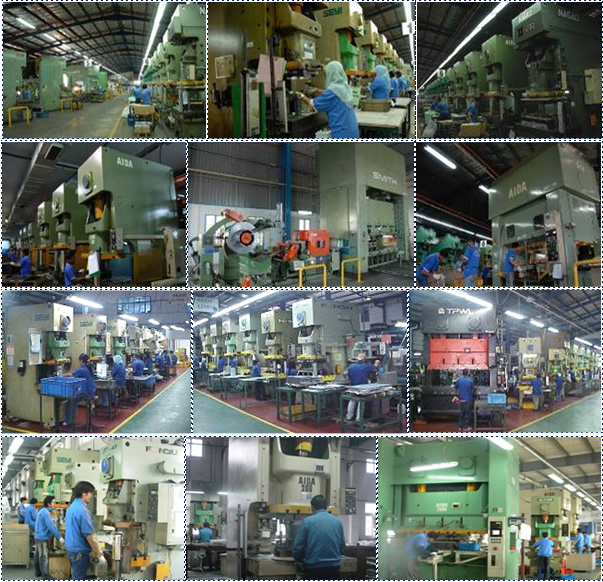 Press Brake Machines
In Singapore and all subsidiaries, we have more than 15 units of press brake machines ranging from 50 to 200 tons-capacity to perform manual bending or any other simple operation for production and prototyping. Our press brake machine is able to bend on the products that are up to 4 meters long. We are equipped with a wide range of standard tool which we can commonly use to produce the operation quickly, flexibly and cheaply, yet with the highest repetition and precision. All our press brake processes are using customized locating templates to simplify the set-up and minimize human-depended errors in the supply of top notch products to customers.

We establish an independent team of machine operators who are specially trained in setting up and operating the machines.

Welding Machines
In each subsidiary company, we are fully integrated with a series of welding machines ranging from 35 KVA to 360 KVA-capacity. All these machines are catered for production of spot and projection welding in various types and sizes of products. We are also equipped with other welding facilities, such as tungsten inert gas (TIG), metal inert gas (MIG) and stud welding, to support our production in meeting the different needs of customers. We installed three units of robotic welders, located each in Malaysia and Singapore, to handle complex products where repetitive tasks on similar piece are needed or when access to a piece is especially difficult. Our robotic welding will improve throughput and weld appearance while maintaining precision and consistent weldments for customers. We design, fabricate and use customized welding fixture for our process control to reduce the variability in weld quality and consistency. Thus, we are capable to deliver our welded products that surpass the customer's expectations.

Besides, we have a pool of hands-on experienced operators who can set-up, trouble-shoot and operate the welding process adeptly.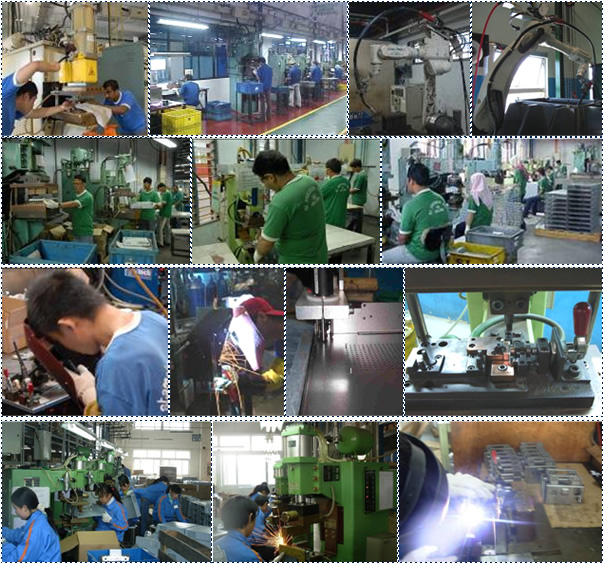 Laser Welding Machine
In Singapore, we have a unit of 55 W laser welding machine for production and tool repair. This machine is able to weld a diameter less than 1 millimeter (0.04 inch) with minimum heat input. Hence, we are capable to perform distortion-free welding on your small products for production. In many cases, we can use the laser welding to repair or modify the tool, due to damage, crack, wear and tear or design change, in a short period in order to meet the deadline of customers.

Besides the use of welding fixture, we have well-trained operators who can set-up, program, trouble-shoot and operate this welding machine proficiently.

Powder-Coating Lines
In Malaysia and Indonesia, we have more than four powder-coating lines catering for low and high volume production. We are capable to perform powder-coating on the products up to a maximum length of 1.2 meters (3.9 ft). We perform surface preparation and checking, depending on the substrate, to ensure good quality of coating. If required, we fabricate jigs to hold or mask the products, use high temperature tape to mask the products, use silicone insert or cap to plug the products and perform final touch up on your products. We always maintain the cleanliness of our lines in the tip-top condition to ensure free-of-dirt environment during process. The lines are well equipped with necessary infrastructures, such as spray booth and oven, which we can have quick turnaround time on our coating jobs.

Furthermore, our operators are well-trained in performing, checking, controlling and handling all powder-coating jobs. The operators are proficient to spot and identify the powder-coating defects in order to provide superior coated products to customers.

Inspection Facilities
We maintain an extensive array of sophisticated measuring equipment, ranging from small tools to co-ordinate measuring machine (CMM), for our process verification and control in Singapore and our subsidiary companies. We have the inspection capability to perform the measurements accurately and precisely on the products or tools regardless of its size and complexity. We also strongly believe in fabricating and using customized checking jigs and fixtures to control the quality of products during process. The checking jigs and fixtures will simulate the functionality of products, optimize the control and reduce the inspection time. Our well established inspection facilities enable us to have proper process control and thus, increase the confidence level of customers on our products.

Moreover, all our inspectors are required to go through proper training in metrology and technical drawing before qualifying into the respective jobs. All our trained inspectors posses essential skills and knowledge to carry out the inspection and measurement effectively and efficiently.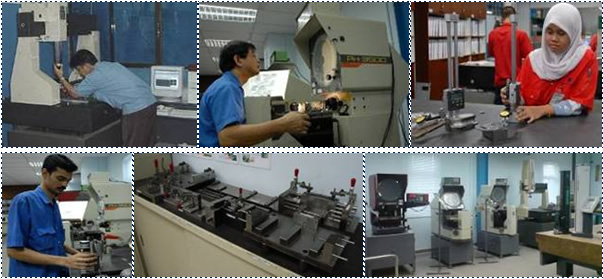 Other Secondary Facilities
Across our global network, we have built up an integrated facility with a broad range of secondary processes to provide fullest support on our core processes in the supply of one-stop products. If there is a requirement from customers, we will develop and establish the required secondary process at any subsidiary company where needed. We are also capable to design and fabricate our own custom-made machinery or jigs and fixtures, to perform a specified process on the products for better control and productivity.

All these secondary facilities are well managed by a small group of people who have remarkable experience and skills to perform the jobs.