We Provide All-in-one Service
AI offer a total manufacturing solution to customize, integrate and centralize your products at one single location. Our array of services, from design, prototyping to production, facilitates us to best meet and deliver all your exact needs perfectly and flexibly. In short, what we enhanced is to provide a full package of one-stop service on what you need to realize your design into a tangible complete product.

The hallmark of our service is to tailor the need for fast and flexible process that gives you what you want, when you want it, at the highest quality and affordable cost. All these grant you with an incredible opportunity to manage and strengthen your supply chain management seamlessly without incurring additional resources. What you need is to only manage one supplier for all industrial fields that you are looking for.

Through our all-in-one service, we see ourselves as more than just an ordinary provider but one that can truly create value for your businesses to become more competitive within your respective market. We strive earnestly to provide and assure our best-in-class service and product quality which are strongly embodied within our brand promise that we will steadfastly deliver. We are fully committed to your success and satisfaction.
Total integrated manufacturing solution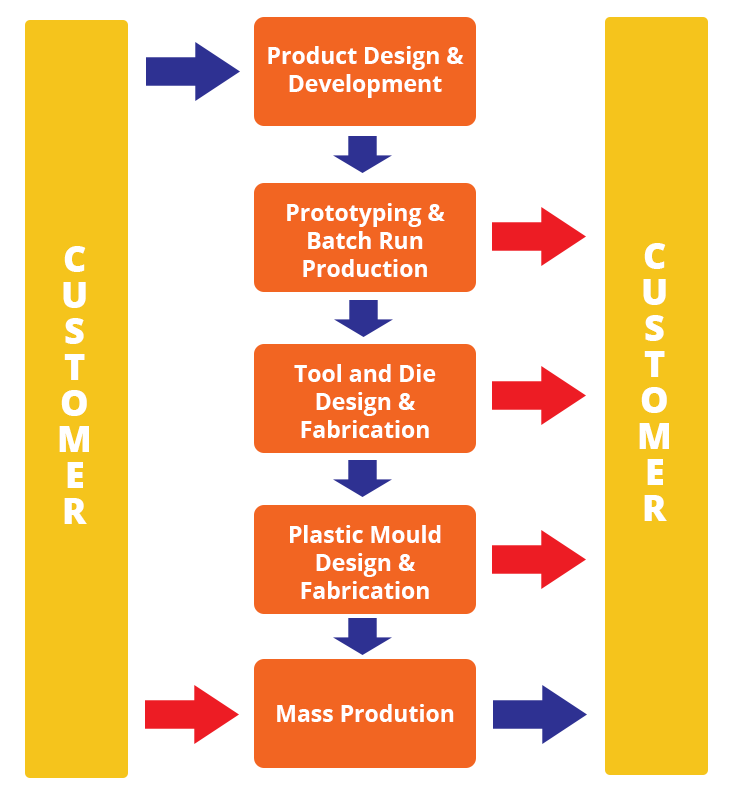 Product Design and Development
We work hand-in-hand with your product designer to develop and improve your desired products based on your needs.
We perform product review and analysis to enhance:
Design for manufacturability which the products are manufactured practically
Design for quality and reliability which the products are manufactured towards zero defect and failure
Design for productivity which the products are produced effectively and efficiently
We, thus, provide necessary recommendation and improvement for design change to customers at the early product development stage.
Prototyping and Batch Run Production
We provide
prototyping
service with a view to explore and optimize the best design at the earliest stage of your products. This will give you the flexibility and opportunity to fine-tune your product characteristics before finalizing your product design.
We also provide
batch run production
service to cater your requirements at low volume of production. This will enable you to manufacture your products at lowest possible cost without high investment in hard tool fabrication.
We have a special and independent group of workforce to handle prototyping and batch run production. We are well- equipped with a comprehensive range of machineries, soft tools, jigs, fixtures and secondary operations that can turn over your samples or batch products in a relatively short time.
Tool and Die Design and Fabrication
We provide design and fabrication of tool and die for metal stamping process, either manual or progressive, up to 600 tons-capacity. This is our specialty that we earn reputation from global market.
We are capable to design and fabricate tool and die to meet your customized specifications, such as size, concept and life of tool, at your affordable cost. All our design and fabrication are made according to common industrial standard that you can fit into any brand of press machines or you can easily replace its accessories in the market. We will justify, ensure and maintain the condition of tool as per your requirements for an agreed guaranteed quantity.
You can engage our service of tool and die design and fabrication merely and we will deliver back the tool, as product, to you upon completion of fabrication. Or, you can engage us not only to design and fabricate the tool, but also for the mass production after completion of tool fabrication.
We also provide design and fabrication of tool and die for cold forging process, to serve as alternative process for customers. The cold forging process is designed to reduce or eliminate the need of secondary processes such as machining, buffing, etc., compared to metal stamping process. This value-added process will indirectly benefit you from cost saving in your products.
We also establish our design and fabrication of tool and die in the stamping of printed circuit board (PCB). It creates opportunity for you to assemble and integrate your electronic components with our precision metal or plastic parts at the same time for the ease of managing your product flow.
With our fully integrated computer-aided design and manufacturing (CAD/CAM) facilities, we are capable to produce our design and fabrication of tool and die promptly. We believe that our design and fabrication capabilities will contribute to our continued competitiveness in providing lowest possible cost and shortest possible time to customers.
Plastic Mould Design and Fabrication
We extend our similar service in tool and die to plastic mould design and fabrication. Our Plastic Division is capable to design and fabricate plastic injection or compression mould which can be ranged up to 1300 tons-capacity, to meet all your increasingly stringent requirements of products.
Our Plastic Division have an independent team of designers, engineers and mould makers to oversee the activities of design and fabrication without any conflict of interest with others, and, thus able to produce excellent job for customers.
With our combined capabilities in metal and plastic, we are confident to offer you with attractive package that able to integrate your precision metal and plastic components into one-stop products at one location with one supplier.
Mass Production
We provide a variety of mass production services to customers in the manufacturing of products. We provide various value-added processes to enhance our competitiveness in the supply of complete one-stop products to customers. With the in-built flexibility and versatility, we can handle not only high volume production but also low volume production at the competitive cost. You can have single type or a series of combination of our services accommodating your needs of products.
Our services of mass production can be summarized in the followings: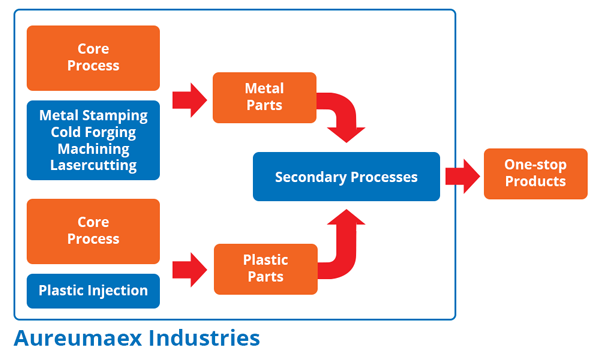 Our current production services are further illustrated as follows (Click to expand):
We provide metal stamping service to mass produce your products either using our own fabricated tools or your transferred tools. We have a series of press machines ranging from 25 to 500 tons-capacity and suitable for various types and sizes of progressive or manual tool. We can offer you with competitive pricing for each stamp of process. We will hold the responsibility on the loss and damage of tool during production. We will perform repairing or servicing on the tool if necessary. We also provide stamping service for printed circuit board (PCB).
Plastic Injection Service